Thom on October 19th, 2016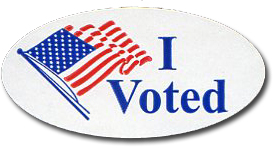 My state encourages mail-in balloting. Boom! I'm done. There's nothing that could possibly come out of tonight's debate that would change my mind, so I've voted already. But there was one important thing I noticed when filling out my ballot: It didn't end after "Choose one for President of the United States".
There are other races on the ballot. There are ballot issues to be considered, and some require some homework to really get the full story. Voting is work, my friends! I'm not here to tell you "You HAVE to vote!" Voting is a right, and a civic duty, but it's also protected speech, and that includes the right to say nothing at all, should you so desire. And while I've had people tell me recently that voting third-party is immoral, I'd have to say if any aspect of voting were immoral it would be uninformed voting. But, quite frankly, uninformed voting is also a right.
But become informed anyway, especially on the "down-ballot". That's where the rubber really meets the road. The presidential race has sucked all the air out of the political room, but the city, county, and state races likely impact your lives more directly than the presidential does.
For example there's a bond issue on my local ballot. The county wants a bunch of money to do maintenance on existing parks and facilities and to build new ones. The information they presented listed the expected cost per household per year, but they were missing some very important information, such as why they need to issue bonds to maintain existing facilities and why, if they can't afford that maintenance in the current budget, are they wanting to add new facilities that will increase the county maintenance costs. And many of these officials were boasting at party caucuses earlier this year that they'd caught the county mayor trying to increase the county budget for maintenance of parks. Something weird is going on, and by weird I probably mean "fishy".
I'm not against increasing taxes for things that are important to me, but if I'd just come along through the ballot and hurriedly made up my mind I might not have caught what was really going on. I might have seen the bait, but not the hook. Take time to learn what's on the ballot before you go to vote. The ballot box is no time to learn what you're being asked to vote on. In that regard uniformed voting is the same as not voting–you have no business complaining about the outcome. (Not that that's ever stopped anyone…)
But if you're going to vote, and you like to be informed when you vote, don't ignore the down-ballot. Take some time to know who or what you're voting for. And don't let the names at the top of the ballot keep you from voting on stuff that hits you where you live.