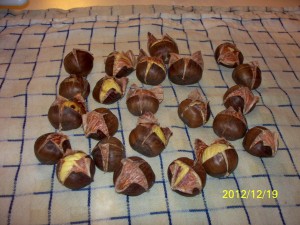 I've been hearing about roasted chestnuts for years. It's one of those traditions of Christmas that no one really does anymore, but it's still part of all the songs. So when I visited the store the other day and saw a barrel of them for sale I decided to try some.
First let me just say that if you're expecting there to be one traditional recipe for how to roast chestnuts, think again. If you search the internet you'll find dozens, and not one alike. So I aggregated the commonalities and punted.
I set the oven to 400 degrees. The recipe my mother-in-law found said you should bake them in a bed of sea salt, but I honestly have no idea what that does, other than leaving some salt handy to roll them in later. Perhaps it dries them out quicker and makes it easier for the shells to crack.
I used my box knife (properly cleaned first, of course) to cut the crosses on the shell. I made the cuts as long as I could, though most of the recipes don't really make that clear. It's a good idea–don't just carve a small X. Make it large. And cut deep. Don't be afraid to cut into the nut itself. You'll want to.
Inside the outer shell is a thinner husk. If you don't cut deep enough that it can curl back from the edges like the outer shell, it'll stick to the nut and will be very difficult to remove. Making sure the cut goes all the way through both layers will save you a lot of hassle later.
Most recipes set to roast them for 15-20 minutes at least, or until the edges of the cut curl back. They were already curled at the 8-minute mark. I don't know if that meant they were already done and I overcooked them or if they still needed to cook longer. Of course the size and thickness of individual nuts also impacts how well the cook.
I let them bake for 15 minutes before taking them out of the oven. They were cool enough to start peeling off the shells within seconds. Some came off easily, and others were a lot of work. Where the husk didn't come off cleanly I was in for some hard work getting them off.
The final verdict on the flavor? They reminded me of a combination of walnuts and sweet potatoes. The flavor was not strong, and they were not overly sweet. When rolled in a little bit of salt the flavor came through more. I like them, but they're not craving-inducing  by any means. The kids didn't care much for them. I'm sure there are other ways of preparing them that are even more delicious.
On the whole, though, they weren't bad. It was worth the effort to try once. At least I can say that I've had them. I suspect that more than most people can say.